Steps to Make Personalized Greeting Cards for Special Occasions
Handcrafted cards express emotions and creativity for birthdays, anniversaries, and holidays.
Greeting cards can convey our most profound emotions, whether celebrating birthdays and anniversaries or sending warm wishes during holidays. Crafted with love and creativity, personalized greeting cards add a unique and thoughtful touch.
Creating heartfelt cards for special moments adds a personal touch to celebrations. This article describes the steps and details of crafting personalized greeting cards. The procedure for making personalized greeting cards for special occasions is as follows:
Step 1: Gathering Materials and Tools
Gather cardstock, decorative paper, scissors, glue, markers, stamps, and embellishments.
Step 2: Choosing a Design
Reflect the occasion with classic, whimsical, minimalist, vintage, or nature-inspired themes.
Step 3: Creating the Card
Fold cardstock, add layers to a focal point, personalize messages, embellish, and refine.
Step 4: Adding Special Touches
Enhance cards with handwritten notes, custom envelopes, photos, and calligraphy.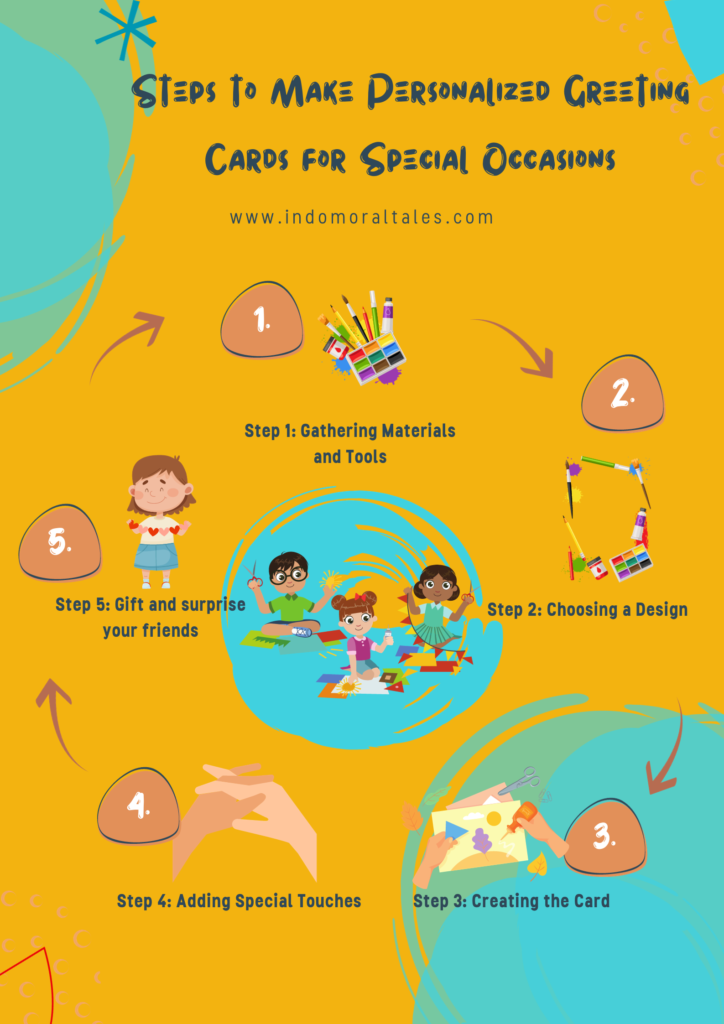 Materials and Tools
You'll need some essential materials and tools to embark on your greeting card crafting journey. Start with cardstock or blank cards as the sturdy base for your creations. Collect decorative paper in various patterns and colours to add flair. Make sure to have scissors and a paper trimmer for precise cutting.
Use glue or double-sided tape to secure your paper layers and decorations. Remember markers, pens, and coloured pencils for personalizing your messages. Stamps and ink pads help you create unique designs, while stencils and stickers can add extra flair. Consider embellishments like ribbons, buttons, sequins, or fabric scraps to elevate your cards further.
Choosing a Design
Before diving into the creative process consider the follow steps before you proceed further at this stage:
Decide on a design that suits the occasion and resonates with your style.
Consider the recipient's preferences and the mood you want to convey. Your design can range from classic to elegant.
If you prefer a more minimalistic approach, stick to clean lines and monochrome color schemes.
Nature-inspired designs can bring in elements like botanical prints, pressed flowers, or tree motifs.
Creating the Card
Now, let's get into the details of crafting your greeting card. It is simple if you follow the below steps.
Fold the Cardstock: First get hold of a piece of cardstock and fold it in half neatly to construct the card base.
Layering and Background: Cut your decorative paper to fit the Card's front and adhere it using glue or double-sided tape. Layer different paper patterns and textures for depth and visual interest.
Adding a Focal Point: Create a central element or image that aligns with the occasion. This could be a hand-drawn illustration, a photo, or a stamped design.
Personalize the Message: Use markers, pens, or colored pencils to write a heartfelt message inside the Card. Alternatively, you can print your message for a polished look.
Embellish and Decorate: Express your creativity by using stickers, stamps, or stencils to enhance your design. Be mindful not to overcrowd; simplicity often shines.
Final Touches: Scrutinize your Card for imperfections and make necessary adjustments. Ensure everything is securely glued and thoroughly dried before presenting your masterpiece.
Adding Special Touches
To make your greeting card even more special, consider these extra touches. Don't forget to add special touches.
Handwritten Notes: Pen a personal note or a meaningful quote inside the Card.
Custom Envelopes: Create matching envelopes or embellish store-bought ones for a cohesive look.
Photos: Include cherished photos that hold sentimental value for a personal touch.
Calligraphy: Practice calligraphy to add an elegant and artistic flair to your cards.
Conclusion
Every occasion calls for something thoughtful and personal. Make yours truly remembered with handcrafted greeting cards made just for them! So grab all your supplies, channel your creativity, and begin crafting beautiful cards that your loved ones will treasure forever.