15+ Easy Yoga Poses for Kids
There are specific yoga poses for kids which will help them build their immunity, health, and muscle system. Yoga, in general, helps them grow healthy. Encouraging yoga from a childhood level helps children to get habituated to yoga. They will continue this practice as they grow up too. Thus, yoga for kids is essential for the child's future. As we move forward in this post, we will see the forty easy yoga poses for kids that will benefit their health and will contribute to their growth and vigor.
Boat Yoga Pose
Tell your kids to balance on their buttocks with legs up the sky and hold that posture for as much as they can.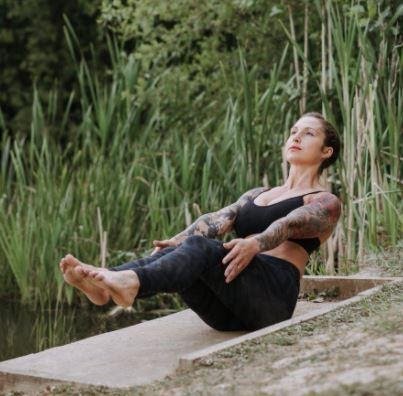 Benefits: This yoga pose for kids works on the spine, which is a chief part of our body and by keeping it erect, we also make it stronger.
Surya Namaskar Yoga Pose
This is an easy yoga pose for kids. Your kid should unite the two hands as if in a namaskar and lift the hands up to the sky and hold it for 2 minutes.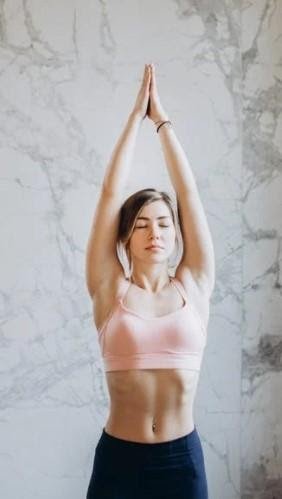 To take the benefits to the next level, you can try this yoga pose for kids. As a part of continuing this pose, ask your kid to fold one leg onto the other as shown below :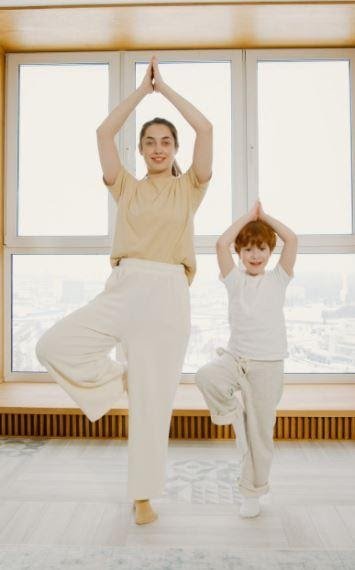 Benefits: This pose is the starting pose of Surya namaskar set. Kids can do this yoga pose easily. It builds the needed strength for the whole body.
Standing Forward Bend
This yoga pose for kids is achieved by reaching for the ankles with your two hands touching your feet and the bending forward to the waist.
Benefits: This pose helps in achieving the necessary stretching for your kid's body. Stretching is essential in making the calves and hips tough and their nonstop kicking knees and thighs strong.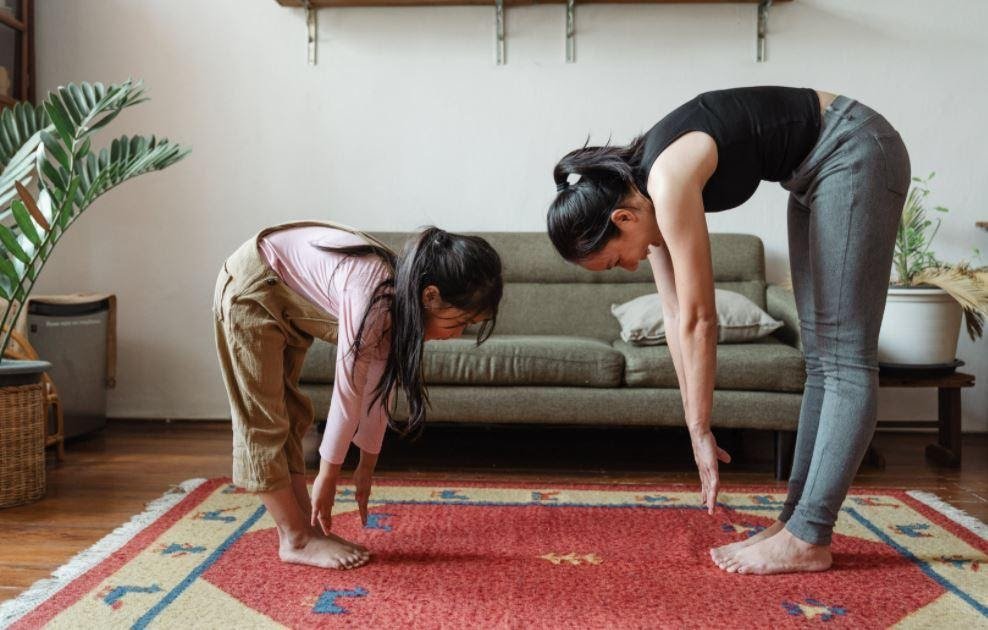 Butterfly Yoga Pose
This is one easy yoga pose for little and lively kids. In this pose, the spine should be uptight, legs straight. Fold the legs in a way that feet are touching. Set the thighs and knees in slowly downward motion. Flap the legs and thighs like the wings of a butterfly.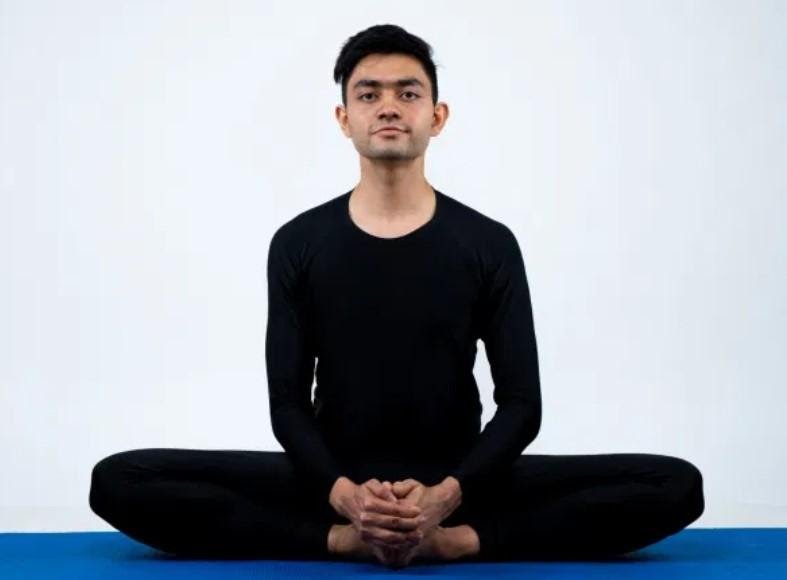 Benefits:
This simple yoga pose for kids helps in a smooth digestion system and keep your child's intestine running like them.
Corpse Yoga Pose 
Another in the list of easy yoga poses for kids is this corpse pose or Savasana. Make your kids lie straight with arms relaxed at both sides. Ask them to shut their eyes and keep their feet intact. Now, instruct them to breathe in and out slowly and leave the weight of the body on the ground.

Benefits: It is beneficial to reduce anxiety, fatigue, stress and rejuvenate the body, increases productive ability, and boosts memory and concentration in your child's growing years.
Chair Yoga Pose
This is another easy pose for kids. Their body is actually more flexible than adults and theus they can do this with ease compared to us.
To do this kids yoga pose, hoist the arms above your head, bend your knees in a forwarding direction and thighs should be perpendicular to the ground. Uplift the arms and stretch them straight for as long as you can balance them.
Benefits: Kids often experience indigestion and lack of appetite. To prevent such problems, and for a fit and healthy heart and digestive system, this yoga pose is irreplaceable.
Bridge Yoga Pose
Bend the knees and keep the feet in their natural position. Hips should be apart. Knees and ankle straight like the ground. With arms and palms at peace with the body, lift the body with the help of your hands. Keep your hands intertwined to elevate your torso to a higher plane.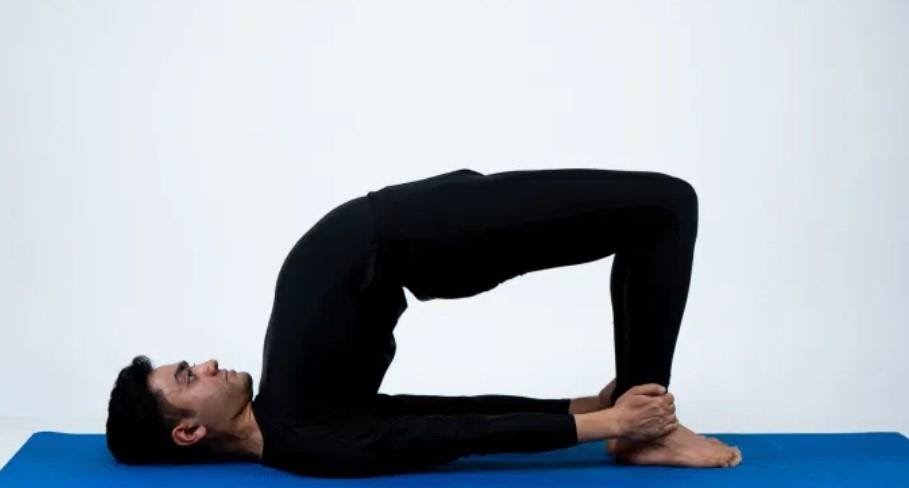 Benefits: A flexible body is the source of an active and bright tomorrow. And this simple yoga pose for kids makes the hip, chest, shoulder, and muscle durable in the long run of life.
Cobra Yoga Pose 
As the name says, this yoga pose for kids indicates keeping the head just like a cobra hood. Lie on your tummy with your feet flat and palms downward. Raise the shoulders back in the direction of your spine. Uplift the body with gaze affront. Do it for 5-10 minutes every morning.
Benefits: If your child is suffering from asthma, it is a beneficial yoga pose. This is also good for the spine, removes stress and turns the body flexible.
Easy Yoga Pose
Also called Sukhasana, this yoga pose for kids is one of the lovely easy poses for kids. All that your kid needs to do is – sit in a naturally known meditation pose, rest the palms on the knees with hands thrust upwards. Keep the spine straight with the neck and head.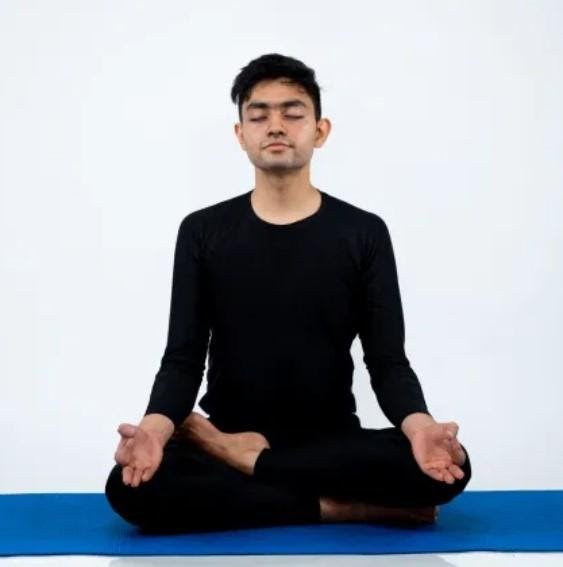 Benefits:  A minute or two in the position every day is beneficial for health. It helps with a child's posture and is known for the removal of stress, back pain, and any time of injury associated with the body.
This pose gets the name from Vira or Hanuman. As he sits in this pose. Most ancient India yogis and sages also emphasized this pose for its benefits.
To make your child do Virasana, tell your kids to keep knees joined, hip far apart. They have to rest on the heels. Heels should be connected to the hips by hands. They can put their hands on the knees. Sit straight and move the shoulders backward and forward in a motion.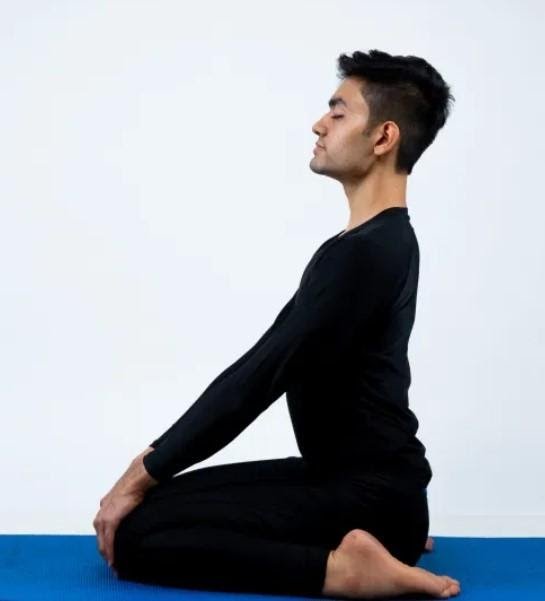 Benefits:
The age of kids is an age of activity, and ceaseless energy. This yoga pose for kids helps the kid to stay active, and blood circulation running.
The Lion Yoga Pose
Here is another pose on animal names. Doesn't the name sound interesting to keep kids curious and encourage them towards simple yoga poses for kids? Well, it is.
To make your child do the lion pose, make them sit with hips resting on their heels and ask them to relax palms on knees. Now, they should breathe and stick the tongue out like a lion. Their eyes should gaze at the tip of the nose.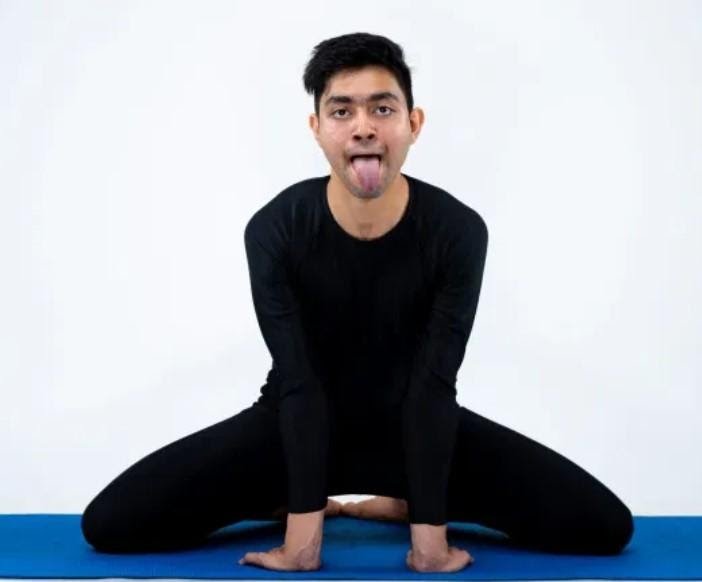 Benefits: For the little one who doesn't stop at anything, this yoga pose is a brilliant way to maintain balance over their emotion and this is beneficial to lungs, throat too.
Locust Pose
To do this yoga pose for kids, make the kid lie flat on the belly with arms along the torso and gradually lift the upper part of the body. Raise the hands thrust towards the air, gaze straight at the front. You should be careful not to be careless with this posture.
Benefits:
Neck pain while studying has become a common notion, and this yoga pose for kids effectively works on reducing it.
Upward Facing Dog Yoga Pose
Tell your kid to lie on the floor and bend the elbow and open your palms to be in a perpendicular line with the forearms beside your waist. Try to lift the upper part of your body depending on your hands. Look straight ahead and hold this for 10-30 seconds.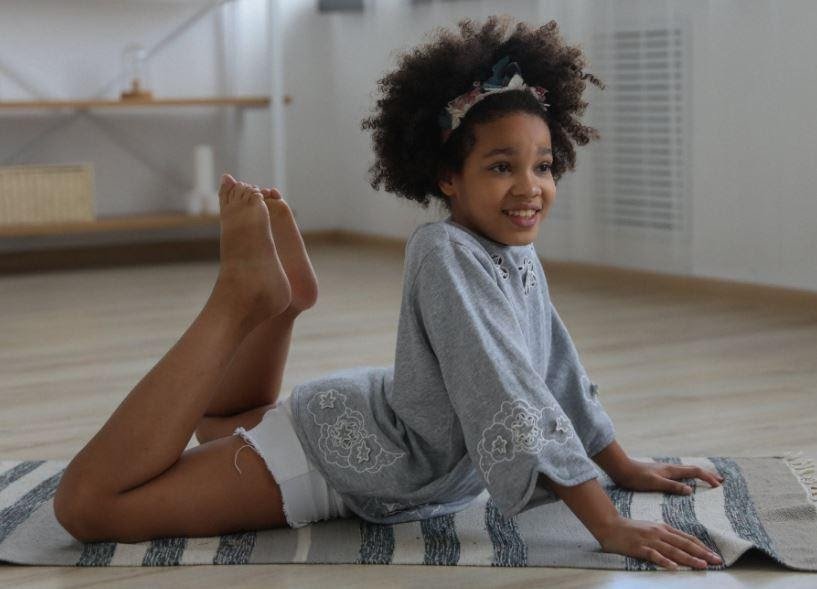 Benefits:
For balancing the posture and reducing the chance of back injury in growing children.
Salutation Yoga Mudra
Also known as 'Anjali Mudra', this is one of the easy yoga poses for kids. It is an excellent way to begin yoga for kids. One has to sit in a natural meditation mode, bend the neck a bit and hold this for a few minutes.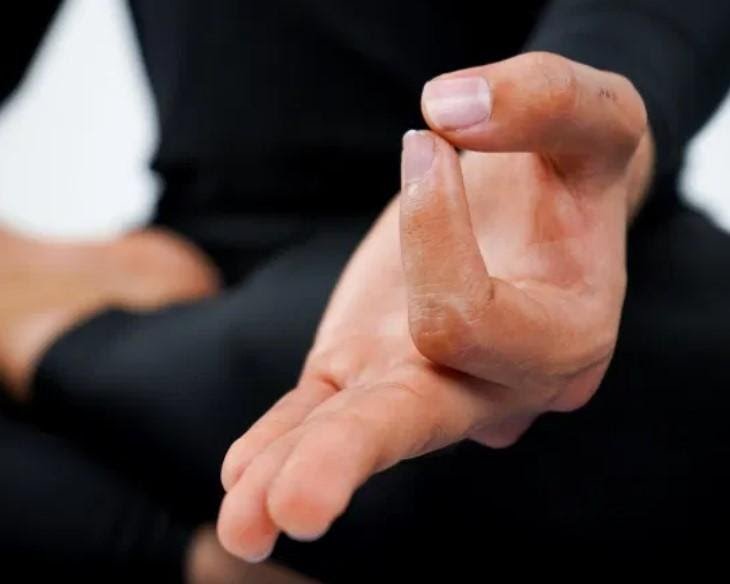 Benefits: Anjali mudra boosts focus and attention of kids. It brings peace to the inner soul and calms the kid.
Cow Yoga Pose
This is another effective simple yoga pose for your kids. To teach cow pose for your kids, make them sit straight and legs crisscrossed in the direction of the waist. Tell them to bend the hands and intertwine them at the back of the body.
Benefits: The children are often prone to back and shoulder pains due to their sleeping posture, this is essential in that.
Warrior II Yoga Pose
This time take the initiative and do the pose and show it to kids. This is another simple yoga pose for kids. Here's how you should do it:
Stretch your arms at a 90-degree angle, and with your hands stretched in a 180 degree, bend your left knee and gaze straight in the direction. Both hands should be stretched at two sides.
Benefits: For the problems related to the stomach kids suffer a lot. This yoga is effective in that measure.
Bow Yoga Pose
If you want to teach simple yoga poses for kids, this is one of the first yoga poses that should be taught at such a young age.
Benefits: This yoga pose for kids is an effective cure for insomnia, migraine that is not limited to adults today in this modern age.
Happy Baby Yoga Pose
Remember, when kids used to play in infanthood by catching their hands and legs? This happy baby yoga pose is the same. To let your kid do this pose, ask them to lie on the back and raise their legs. Then they should catch their legs with their hands and stay in the pose till they feel comfortable.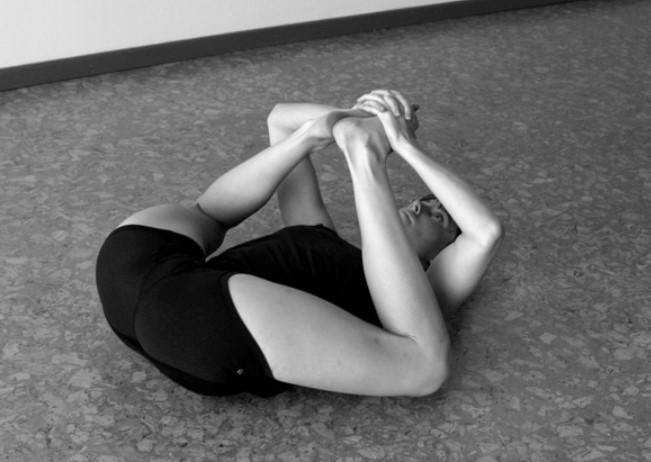 Benefits: This yoga pose for kids is easy to do. It relaxes the whole body and is good for neck and back injury.
Yoga from a young age is the cornerstone for the child's overall growth into a healthy, active adult. So which pose are you starting with for your kid?