How to Celebrate Holi With Kids?
Holi is one of the Indian festivals that children and elders celebrate alike. Many parents celebrate Holi With Kids for fun and rituals. The festival brings colors into our life. It also marks the beginning of the new season in India. Foreigners like this festival for its vivid nature and the joy it brings along. 
Many tourist operators organize special tours to places in India such as Jodhpur, Mumbai, etc. during this festive season to showcase the beauty of this festival of colors from up close to foreigners.
In this post, we will provide you an understanding of what is a holi festival, when is holi date, the story behind the holi festival, how to celebrate holi during covid, holi crafts and fun activities for kids, and how kids can celebrate holi safely with colors.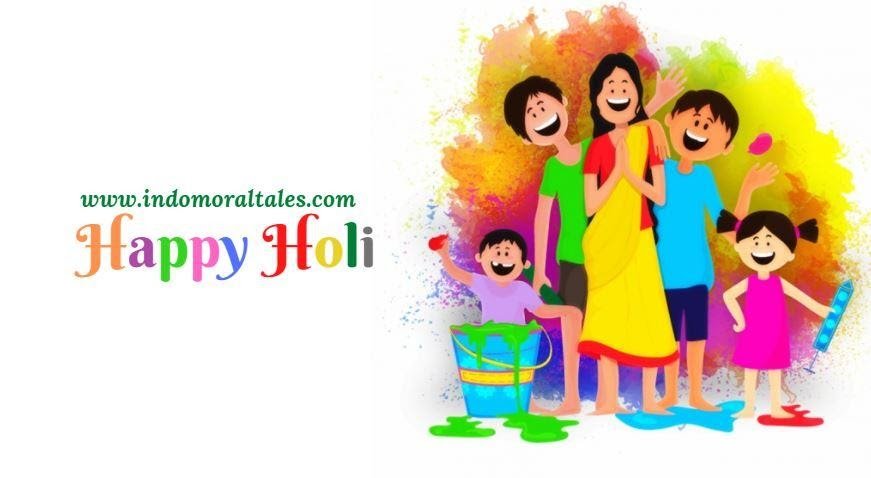 What is the Holi festival?
Holi festival is one of the most celebrated and loved festivals of India. The story of the Holi festival dates back thousands of years ago. The festival marks the end of the spring season and the start of summer in India.
There are many legends behind the celebration of the Holi festival. According to one story, Bhakta Prahlada was an intense devotee of Lord Vishnu. His father, the demon King Hiranyakashyap was an avid enemy of Lord Vishnu. He hated him immensely. He tried to tell his son not to pray Vishnu but in vain. Angered Hiranyakashyap summoned his evil sister Holika to kill his son Prahlad.
Holika tricks Prahlad to sit on her lap and starts a fire under her. By a boon, Holika is immune to fire. But due to the Maya of Lord Vishnu, and Prahlad being the great devotee of Him, the fire does not harm Prahlad, but instead kills Holika.
When is the Holi festival date?
Holi festival occurs in the month of March.
In 2021, the Holi festival date begins on Sunday, 28 March, and ends in the evening of Monday, 29 March.
In 2021, the Holi festival date begins on Thursday, 17 March, and ends in the evening of Friday, 18 March.
How is Holi Celebrated?
Holi is a time for friends and families to get together and share the good and the bad and relax and strengthen their bonds. The Holi festival is a mark of the end of evil and the victory of the good. People celebrate this day with this spirit by spreading colors, flowers, and colored water onto each other.
People wear white clothes as a mark of a new beginning and make sure to get them drenched in colors. Friends and dear ones apply colors onto each other's faces.
In many places of India, an activity called Pot Breaking is organized. As a part of this, colored water, buttermilk, or plain water is filled in a high-hung pot. Children, youth, or men form a human pyramid and try to break the pot with a wooden stick. The one who succeeds in breaking the pot is the winner of the day!
How to celebrate Holi during COVID?
If you are concerned about celebrating Holi in groups but do not want to miss the fun and the festive spirit, there are many ideas as below:
Organize a small get-together at home inviting a very close group of friends. Play holi at home with turmeric and natural colors made from carrot, beetroot, etc. They are easy to clean and won't stain your furniture or walls.
Arrange for a potluck with friends and neighbors maintaining social distancing and feast on the festival afternoon. Enjoy the lunch losing into the beats of popular Holi songs.
Organize a video call with friends and family. Have fun singing antyakshari of Holi songs, sharing dialogues from movies that depict the Holi festival, etc.
Send surprise Holi gifts to your dear ones' houses and spread cheer and love on this festival of colors.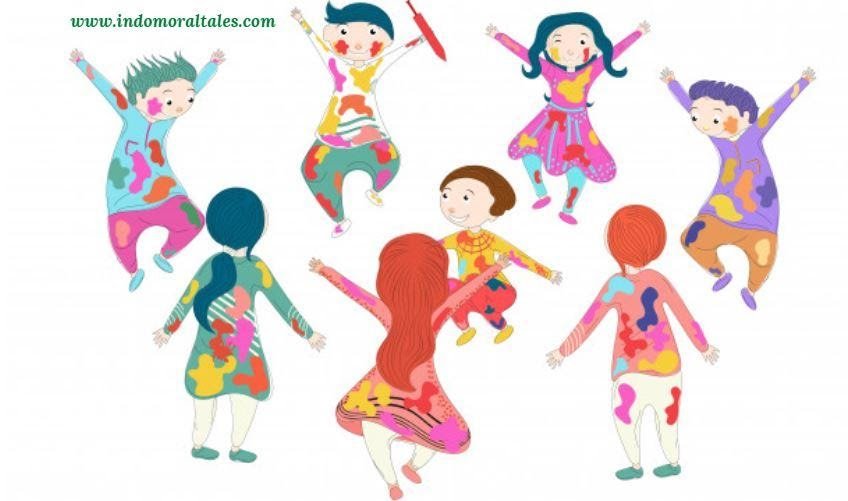 Fun ideas to celebrate Holi with kids 
Kids love getting drenched in the colors of Holi. The fun of smearing colors on their friend's faces and playing in colored water is something they don't want to miss.
However, most colors these days available are made of artificial substances and chemicals. They may irritate skin, eyes, and hair when exposed in high amounts. Similarly, if colored water enters the mouth, eyes, ears, and throats for children, they may face allergies, vomiting, and such disturbances.
Thus, if you are concerned about sending your child outside for personal, health, or other reasons, don't worry a bit! Here are many Holi fun activities for kids that you can indulge your children making sure they get all the fun of the festival.
Group storytelling sessions
If you live in an apartment or a colony that has kids in good numbers, to celebrate holi with kids in a safe way, you can choose not to allow colors in the neighborhood.
Related: Balarama stories for children
Instead, invite all the kids to a common hall in the apartment or gather them at someone's home and organize storytelling sessions, singing competitions, drawing competitions, dramas, and dance competitions, etc. make sure to weave these competitions around the Holi theme for better effect.
Crafts and DIYs at home
If your child or children are at home and you want to engage them during the festival without sending them out into colored water, plan for the same. Take the help of the internet for craft activities for children.
Gather the required items ahead and prepare a list of items they would make on the Holi festival day. Ask them to prepare colored replicas of anything that would match the colors of Holi.
Virtual meetings with grandparents, school friends, and family members
Organize video calls with friends of your children. Your kids must be missing their schools and friends due to the current situation. So, plan for video calls for their friends on the festival day and let them talk endlessly. They would show their new dresses and rejoice a lot talking with friends.
Find the coin game
Fill two vessels with colored water and drop some small objects. Blindfold the players and ask them to dip their hands and take out the object from the water. Whoever finds it and takes it first is the winner and will get a surprise gift!
Decorating the house
Encourage your children to take part in the festival decoration of the house. Tell them to clean their bunker beds or organize their book racks and wardrobes.
Teach them how to decorate their home with garlands, colored ribbons, papers, cardboard decorations, silk clothes, flowers, diyas, and rangolis. They will love being a part of such activities. You could even encourage siblings to do them and announce whoever does it better as the winner!
Dancing 
Holi festival is known for its popular songs as much as it is for colors. Arrange a jukebox at home and all the family members dance in merry. This is a great exercise, a fabulous way to build family bonds and destress and fill our souls with fresh energy.
Singing and enacting
All of your family members organize a singing competition. You could even form teams and play dumb charades, carroms, chess, cards, Ram-Sita, and many such Indian indoor games. The team that gets the higher points will get extra sweets or chilled Holi gulabi lassi!
Drawing and painting
Organize a drawing competition for siblings. To boost their spirits, buy new drawing boards, sketches and watercolors before the festival. The sight of something new like these will not remind kids that they are not going out and missing playing with their friends in the water.
Give them Holi theme-based drawings and ask them to fill colors. If the children are big, you could encourage them to think on their own and draw what their young minds visualize the Holi festival-like. If your house has a provision, you could also allow a full wall with a drawing board or a white sheet that lets them draw directly onto the wall.
To make the fullest of this festival spirit, ask the little ones to dip their hands in watercolors and make the impression on white charts which you can save or frame later!
Mehendi and rangoli
Take some time out and invest in rangoli and Mehndi activities. Decorate your house front with Holi rangoli designs. Encourage your children to participate in the rangoli making.
Ask them to cill colors, flower petals, or draw separate small rangolis as their little minds intend. Similarly, decorate their cute hands with Holi-themed Mehendi designs and bring a festive glow to their hands.
Watching movies together
Holi is a time of feasting and enjoying with family. Plan a lavish homemade lunch. Ask every member of the family to take part in cooking and organizing lunch. Play your favorite movies on the OTTs and relish Holi sweets, specials, and delicacies happily!
Surprise children with Holi gifts
Kids love surprise gifts. Why not make them happier by giving them surprise gifts on Holi? Consider gifting them according to their hobbies and age. You could also introduce new hobbies to them which they may enjoy during the upcoming summer by safely staying at home.
Tips on How Kids can play safely with Holi colors
If your kids insist on going out and playing with colors, fret not. You cannot stop them from mingling with their peers on this festive day. You don't want them to sit in a spoiled mood that they missed the fun. Instead, educate your kids to play safely with Holi colors.
Apply coconut oil to the body and hair of your kids before they go out for playing with colors. This way the colors don't stick to their hair and skin. They won't penetrate sweat glands nor will cause any rash too. You can easily wash them off with warm water.
Ask children to wear Goggles and earplugs to prevent the entry of colored water into their eyes and ears.
Tell them strictly not to consume colored water and keep their mouths closed while playing with water.
Instead of allowing children to play with synthetic colors, all of your apartment-mates or colony mates gather ahead and arrange for natural colors. This could include henna, turmeric, beetroot, rose, tomato, marigold, and carrot extract, or plain water. They are safe, healthy, and eco-friendly too.
Tell children, not to trouble others who are not interested in playing with colors. Similarly, tell strictly to others if you are not interested in getting smeared with colors. Many times, people understand and cooperate if you say NO to colors.
But the Holi festival is all about colors. So, allow children to go get smeared with natural and safe colors and have fun. After all, what is life without colors! Have a safe and happy Holi with your kids!